In den letzten Tagen waren in der BASIS Vinschgau Venosta gewissermaßen Heinzelmännchen am Werk – so rund ging's schon lange nicht mehr. Das ist vor allem dem Tontechnik-Team um Wolfgang Sauter zu verdanken…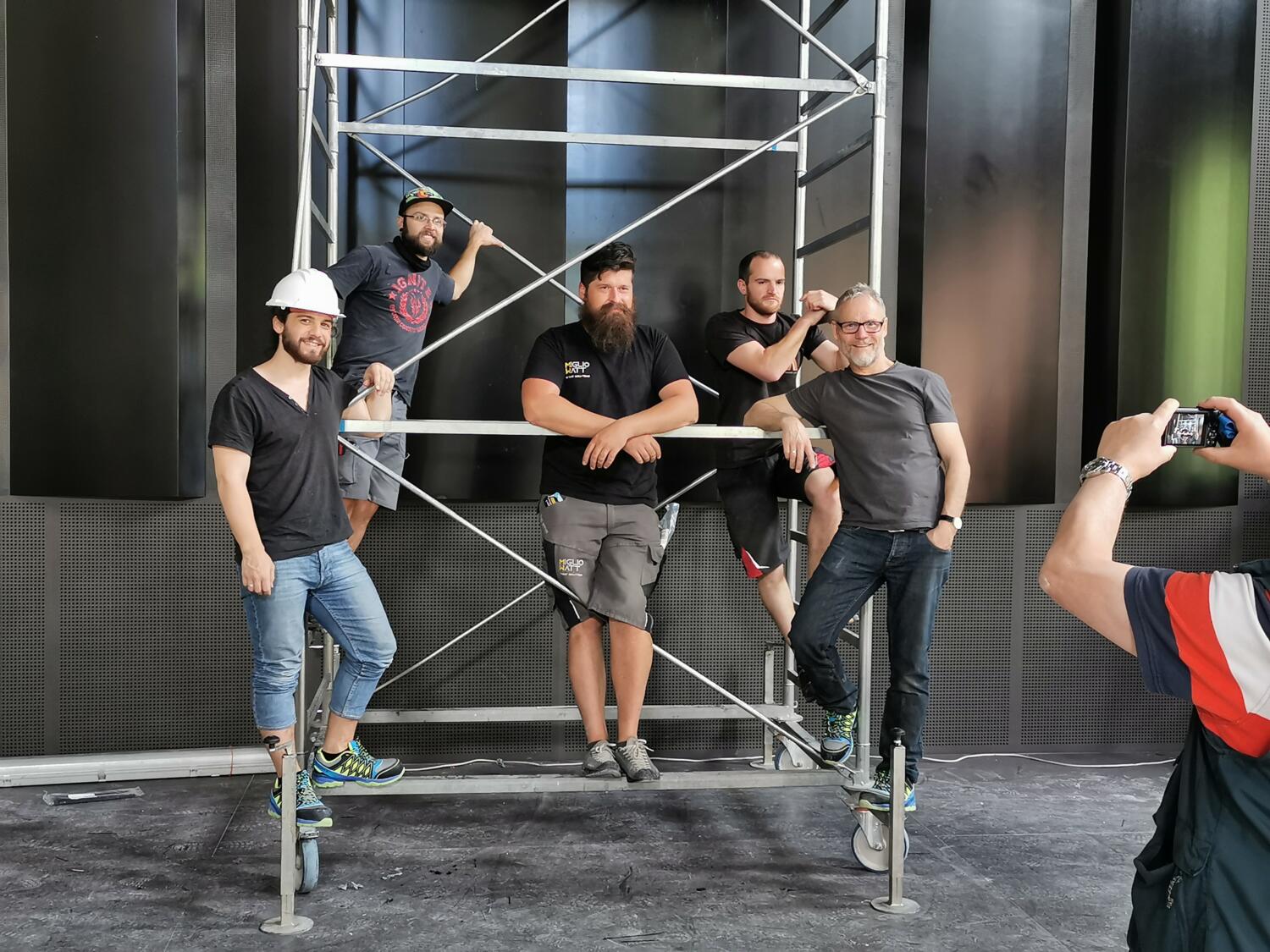 Wolfgang Sauter? Der "Klangpapst" – so nennen ihn seine Kollegen und Mitarbeiter. Der gebürtige Innsbrucker ist 55 Jahre jung und gründete 2003 die Firma Pro Performance, die Beschallungs- und Akustiklösungen für Veranstaltungsräume bietet. 2011 übernimmt er die komplette Frima von seinem ehemaligen Partner und baut sie weiter auf. Er arbeitet mit den "state of the art" Produkten der Tontechnik: Alcons Audio, Lamda Labs und Artnovion Acoustics sind für die besten Klangprodukte auf dem Markt bekannt. Zu seinen bisherigen Projekten zählen die Volksoper in Wien, die bekannten Wiener Clubs Flex, Grelle Forelle, The Loft, sowie die Antena3 Bukarest , eines seiner bisher größten Akustikprojekte: eintausend maßgefertigte Akustikpaneele für die zwei großen Produktionsstudios des größten privaten rumänischen Fernsehsenders. Und nun ist er mit zwei seiner Mitarbeiter in Schlanders und baut den neuen Veranstaltungsraum KASINO. Während seiner Mittagspause kurz nach 15:00 Uhr, bei einem Stück Fantasy-Pizza und inmitten der noch aufzustellenden Soundboxen, berichtet er uns über die großartige Arbeitsweise der Vinschger und über die Herausforderungen seines ersten Projektes in Südtirol. In Zusammenarbeit mit den lokalen Tontechnikern und den beauftragten Betrieben aus der Umgebung installiert er binnen weniger Tage die komplette Anlage.
Die große Anforderung war das ehemalige Kino der Drusus Kaserne Schlanders in eine der technisch modernsten Eventlocations Europas umzuwandeln: einem multifunktionalen Veranstaltungsraum, der Wissenstransfer und Interaktion fördert und zugleich ein einzigartiger Austragungsort für Konferenzen, Vorträge, Live-, Theater-, Club-, und Kinobetrieb, darstellt. Das KASINO ist das Herzstück der BASIS Vinschgau Venosta und verfügt nun über eine futuristische Raumakustik- und Beschallungstechnologie, eine versenkbare Bühne, einen Rückraum mit eigenem Backstage- und Servicebereich und der benötigten Licht- Audio- und Mikrofontechnik. Mit einer Grundfläche von 220m², einer Raumhöhe von 10m und der umlaufenden Empore, ist es ein –> Veranstaltungsort mit historischem Alleinstellungsmerkmal. Das KASINO fasst 200 Personen sitzend und 500 Personen stehend. Der eigene Barbereich, die dazugehörige Galerie, der Rückzugsraum und Außenbereich können ebenfalls mitgebucht werden.
Die Eröffnung ist Anfang/Mitte Juli geplant! Bei den ersten Events werden wir sicherlich noch mehr als sonst unsere Ohren spitzen, uns von der Soundwelle davon treiben lassen und an die motivierten Techniker denken…
KASINO-Genuss auf hohem Niveau!