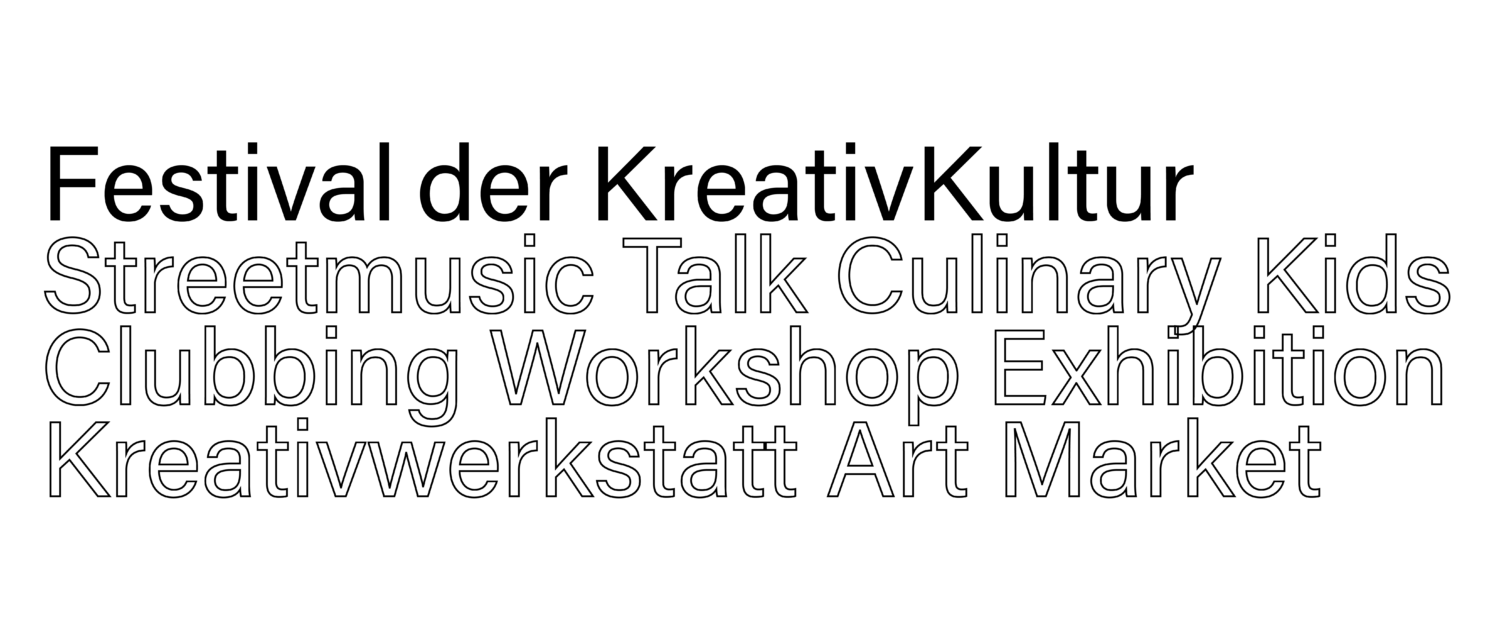 A festival as a bridge between arts and crafts, design, music, technology and the theme of monuments. On two days there will be heaps of program for all ages with Spielideen, clown, talk and workshops such as spinning, calligraphy or Krempempl. Artists perform and exhibit works at the art market and open their studios in the Kreativwerkstatt. Worth seeing installations like "on Remembrance" and short films will be shown. During the day there will be dancing to street music outdoors and clubbing at night. Vegetarian delicacies like pizza from Bistro Sole to crepes, coffee and cakes in the Kaffeehaus, will be available all day. In the evening, the wine bar will be open and chili sin carne will be served until late. Admission is with voluntary donation.
Saturday 11 – 22 H -> Clubbing 22 – 04 H
Sunday 10 – 16 H
YOUR SOLIDARY CONTRIBUTION
The solidary contribution is a kind of voluntary donation – but not entirely! The solidary contribution gives you the freedom to give as much as you can and is an essential contribution for the realization of the DenkMal Festival.
Let yourself drift, let it rip and have an unforgettable time!
ALLEE / SAturday+Sunday
RENARRO
renarro is an association with a workshop for applied recycling. Things that are no longer used are given a value through their modification or renewal and their history is given a new story: in this way unique objects are created in our workshop. Our main focus is currently on chairs; but in principle has no limits, because we recycle and use what others give away or throw away: Sofas, stools, benches, coat racks, clothes racks, lamps/lights. Wool and fabrics are used to make bags, upholstery, hats, scarves, jewelry and much more.
ALLEE / SATURDAY+SUNDAY
PATRICK WIESER
His artistic work revolves around maps, cartography of various kinds; around the city as a theme; around architecturally interesting buildings, which he then uses as inspiration for my works. He paints and draws maps, of existing places, but also free-found city and country maps. He works with digital printing, Liloleum printing, Acquatinta and Acuqaforte. He creates collages and classic pencil drawings.
ALLEE / SATURDAY+SUNDAY
VERENA THÖNI
Her works are primarily about the line. Sometimes only a single line, but often many lines together. These are often bent, curved, overlap and are very colorful. The theme of color is also important to her, she always tries to create coherent and harmonious color compositions. She paints these geometric abstract images on wood but also on canvas.
ALLEE / SATURDAY+SUNDAY
DIEGO ZANELLA
From the passion for skateboards and music, the artist Diego Zanella, Milky Shapes was born. The idea is to redesign old shapes by giving them new life with graphics inspired by sunburst guitars.
ALLEE / SAturday+Sunday
THOMAS BIDERMANN
His works are all created with a thought of a story. They have no titles and the viewer can interpret them for themselves. As a base, most are created on skateboards – to get more attention from the viewer.
ALLEE / SATURDAY+SUNDAY
ELISA MARIGO
Works with geometric shapes, creates abstract and figurative collages. She tries to combine different materials to create a composition. She is active in the field of illustration for the visually impaired and also often works with small-scale geometric figures, inspired by the Chinese game of tangram, which she then enriches with quotations from books, famous people, music lyrics, or even with tautograms she has created herself.
ALLEE / SATURDAY+SUNDAY
KARIN SHIATSU 'WENDEPUNKT'
Touch – relaxation – letting go – releasing blockages and making energies flow are words that describe SHIATSU very well. The shiatsu treatment is time in which you can better perceive your body and its sensations. It is time to be there for yourself and to take good care of yourself!
Shiatsu treatments to get to know – Saturday
SEMINARIUM
TALK – Breaking The Silos!
Breaking the silos! South Tyrol needs more spaces for creative mixed uses. How can we realize the next generation of multidisciplinary spaces for young creatives in South Tyrol? Which silos need to be broken down? What are pioneering approaches from abroad? And most importantly, how can they contribute? The collaborative session invites young creatives from South Tyrol, institutions and investors to come together and cultivate the creative mycelium in South Tyrol.
SATURDAY 16 – 18 H
KASINO / 22.00 H
WICKED AND BONNY FEAT. SUPAHNOVA
Sometimes evil and sometimes beautiful. This is how the people from Venosta Valley describe their music style. Wicked and Bonny is now one of South Tyrol's best-known export hits when it comes to dub music. They have performed on festival stages all over Europe and have been pushing the local underground music scene for many years.
KASINO / 23.30 H
JAHSON THE SCIENTIST
Jahson the Scientist's music focuses on hip-hop, while also utilizing jazz arrangements, Afro beats and occasional rock riffs. The Viennese native is known for his stage presence and ability to create songs in the moment. Jahson has performed throughout Europe at a variety of festivals, including DonauInselFest.
KASINO / 01.00 H
BRATŘI
The Techno duo Bratři is a new face in the Czech electronic music scene that creates a combination of catchy erlectronic dance, techno and ambient. Twins Jiří and Ondřej participated in various showcases from September 2019 to February 2020, such as Nouvelle Prague and Eurosonic Noorderslag in the Netherlands.
KASINO / 02.00 H
KAZ
Kaz from Manchester, UK has made a name for herself in the drum and bass scene. Her sets at Manchester's own "Bloc2Bloc" have caught people's attention for their wild, dark mixes reminiscent of T>I and Particle. She has performed with artists such as Shy FX, AC13, Bou and in large warehouse project shows.
IDEENSPÜLE / SATURDAY 14H
KREMPEMPL
Creative work and unfolding with different materials – accompanied by Christina and Isolde. It is ostensibly about the doing – the process, not the result. In addition, this is a place of appreciation and heart building. Please bring old stuff such as clothes, shoes and so on. Those who wish can also collect and bring worthless material such as packaging, driftwood, screws, shells, etc.
WIESE / SATURDAY+SUNDAY
SPIELIDEEN
Game ideas for young and old! The mobile games inspire people of all ages. Whether together or alone, playing is simply fun. Charli's train is also back.
WIESE / SATURDAY+SUNDAY
CLOWN JORDI
He reveals himself as a clown, with few skills but with a very good sense of crazy things. A show with a lot of energy, improvisation and relationship with the audience. Gags and non-gags, with the hat, horns, bicycles,unicycles, mini-bikes and handlebars!
WIESE / SAturday
CHILDREN'S FACE PAINTING & BODYPAINTING
An fanciful, painted children's face with colorful children's makeup enchants everyone. Body painting with airbrush is something for everyone, because colorful painted just looks great.
IDEENSPÜLE / Saturday 14–16H
CYANOTYPE
Cyanotype is an ancient photographic printing process characterized by the typical Prussian blue color (hence the name, derived from the ancient Greek kyanos, "blue"). Cyanotype was a British discovery made in 1842, and the first to use it photographically was Anna Atkins, a botanist and photographer who published a book of cyanotypes of algae, considered the first book of photographic images in history. The workshop will be led by artist Laura Pan and Isolde Veith. A workshop for children and adults. Material does not need to bring any.
KREATIVWERKSTATT / saturday 15H+sunday 13H
WEAVING
Weaving is one of the oldest techniques of manufacturing textile fabrics, in which at least two thread systems are crossed at right angles. Weaving is a handicraft technique that requires few tools. With a weaving frame, a weaving needle, a comb and a few scraps of yarn, you can already weave the first project.
IDEENSPÜLE / SATURDAY 14H
KREMPEMPL
Creative work and unfolding with different materials – accompanied by Christina and Isolde. It is ostensibly about the doing – the process, not the result. In addition, this is a place of appreciation and heart building. Please bring old stuff such as clothes, shoes and so on. Those who wish can also collect and bring worthless material such as packaging, driftwood, screws, shells, etc.
KREATIVWERKSTATT / saturday+sunday 11+14H
YOUR NAME IN CALLIGRAPHY
It is the "art of beautiful writing" by hand with brushes, pens, quills and other writing tools. The artist, stage and scene painter Alessio Nalesini, will show those who are interested this technique of beautiful writing. There are three alphabets to choose from, so that everyone can find what they are looking for.
KASINO / Saturday 14–16.30H
MODULAR SYNTHESIZER WORKSHOP
With Flyle from The BUGFiX: The workshop for beginners, focuses on the analog Eurorack system.The basics learned are also applicable to software applications (Ableton, VCV Rack and more). Registration at
pk@basis.space
(online: by 11 p.m. Friday, on-site: by 1:30 p.m. Saturday).
KREATIVWERKSTATT / SAturday+sunday
KARSTEN PFEIFER
With his photo exhibition "South Tyrolean Symbioses," the Westphalian-born photographer sidesteps perfectionism. He uses his skills purposefully to combine the historical technique of the collodion wet plate with modern possibilities. His close relationship to the Vinschgau Valley with its people and the unusual photographic technique form the basis for his symbiotic motifs from South Tyrol. The large-format photos invite the viewer to look closely and find ever new details. In doing so, he wants to bring the immediate impressions of his experiences as close as possible to the viewers.
KREATIVWERKSTATT / SATURDAY+SUNDAY
SCHÅNDFLECK
The exhibition offers an overview of the work carried out during the Schåndfleck workshop, presenting itself as a key to understanding and reflecting on the themes of abandoned space and its regeneration. The participants, Isolde Vill and Nadia Schwienbacher, tackled the questions "What is an abandoned space?", "What is the history of the Barracks?", "Who inhabited it?", "What remains of it?"
KREATIVWERKSTATT / SATURDAY+SUNDAY
JANICK ENTREMONT
He already became interested in the visual medium at an early age. In the beginning, his approach was rather technology-based, and so it was appealing to him to explore the inside and functional principle of a camera. Over the years and with growing experience, however, it became more and more important to him to find his personal approach and to give priority to content matter.
KREATIVWERKSTATT / SATURDAY+SUNDAY
KIAN BARTELS
"Cap is a component of the materials used a chair is mounted on which you can sit and the other to the other situation not whether you want to see the or so very slowly and surely is that the work with me's also going well with the analsexsceene and the study and the university to work applicable is I so in lately made that can use gladly" – Bartels
BÜHNE / SATURDAY 13–14H
ANDREW'S MUSIC PROJECT
Andrew's Music Project will be performing his best songs on his Styrian harmonica for 1 hour. The songs are in his very own style which Andrew has developed recently. His songs contain passionate, fast melodies with a lot of rhythm and joy of life.
BÜHNE / SATURDAY 14–15.30H
OSSI
Ossi will perform with his acoustic guitar. Between folk, blues and country songs from the 70-ies, everything will be there!
BÜHNE / SATURDAY 15.30–17H
NOAH THANEI
Noah Thanei from Silandro will entertain us with a programme of his own songs and covers, accompanied on his acoustic guitar. Between old classics like Beatles and modern hits like Coldplay, Noah offers us a mix of the finest music.
BÜHNE / Saturday 17–18.30H
ROBIN'S HUAT
With his acoustic guitar, bass drum, tambourine and vocals, Robin's Huat covers songs from various musical genres. In recent years he has also taken up pen and pad and wrote his own "dialect songs". In 2021 Robin's Huat released his first own single "Wos Willi". Towards the end of this year, Robin plans to release his first music video.
BÜHNE / SATURDAY 18.30–19.30H
MR. INTECH
Mr. Intech stands for freshly baked beats and fat kicks. The live performed music comes from beat machines that started the electronic music. Mr. Intech has been performing on the machines for half a decade and it is classic techno beats that he coaxes out of the machine that gets people dancing. Inspired by techno legends FKY or Spud but also by other genres like hi-tech/ psycore his music gets a psychedelic aftertaste.
BÜHNE / SATURDAY 19.30–20.30H
GRETITUDE
From funk to reggae, from dub to electro. Gretitude has various records that she will present to us at the festival.
BÜHNE / Saturday 20.30–22H
FLÖRT.EXE
For years floert.exe collects and puts on finest Reggae/Hip Hop Mashups of and presents you at the DenkMal Festival his "finest selection".
BÜHNE / sunday 12–15h
STRAPPI AI PIATTI
Music you can enjoy! Let yourself be surprised!
INFOSÄULE / Saturday 11 + 17h
TOUR
There will be guided tours of the site on the two days of the festival, where you can also gain insight into the history of the barracks and find out about its creation and events over the years.
INFOSÄULE / SUNDAY 11 + 15H
TOUR
There will be guided tours of the site on the two days of the festival, where you can also gain insight into the history of the barracks and find out about its creation and events over the years.
PERFORMANCE & INSTALLATION
WIESE / SUNDAY 11–12.30H
LIEBESMACHT
"Liebes-Macht" the Interactive Performance with Dialogue. Sigrid Seberich develops a monologue, which puts the woman in the center, the roles of women in patriarchal and other societies, in the current democracy philosophically and historically illuminated. She asks herself how much love can be powerful, respectively how love has been and is abused for power. Critically, cause and effect are illuminated.
KREATIVWERKSTATT / Saturday 18h+sunday 13h
IDE MAMAN
Professional artist, born in Zinder (Niger), came to Italy in 2011. He is a film and theater director and actor, writer and musician-therapist. He is the author of the photographic exhibition "Sui miei passi" and author of the performance "Piedi", which is about his true story of crossing the desert, the mountains and the sea. He is the director of the documentary film "The Poor Forget", "Yaron Daggi", "Afronauts", "Silenzio al buio".
TINY FOP MOB / SATURDAY+SUNDAY
ARTIFICIAL MUSEUM
Scans of the interiors, photos of the interiors and facade, 3D photos of the interiors of the barracks which you can see during the day.
SEMINARIUM / STURDAY+SUNDSUNDAY
CHAIR INSTALLATION "ON REMEMBRANCE"
The chair installation "on Remembrance" to be seen for the first time in Silandro -> a space to reflect on violence against women, femicide and women's rights. A memorial to those women who have been killed by a man in South Tyrol in the last ten years.
TERRASSE / Saturday
MURALES
Egeon and his team will turn a drab wall into a larger-than-life work of art. These works are called murales and are applied to an exterior wall with a ladder, brushes and facade paint.
Our Sponsors
We would like to thank all our supporters and sponsors.