Events jeglicher Art im ehemaligen Kino der Palazzina Servizi
Das Herzstück des Gebäudes ist das ehemalige Kino der Drusus Kaserne. Es ist nun zu einem multifunktionalen Veranstaltungsraum für Wissenstransfer und Interaktion umgebaut und bietet einen einzigartigen Austragungsort für Konferenzen, Vorträge, Live-, Theater-, Club-, und Kinobetrieb. Mit einer Grundfläche von 220m², einer Raumhöhe von 8,34m und der umlaufenden Empore, ist es ein Veranstaltungsort mit historischem Alleinstellungsmerkmal. Das "KASINO" fasst 232 Personen sitzend und 500 Personen stehend. Der eigene Barbereich, die dazugehörige Galerie, der Rückzugsraum und Außenbereich können ebenfalls mitgebucht werden.
Das sogenannte "KASINO" verfügt über:
eine "state of the art" Raumakustik- und Beschallungstechnologie
eine versenkbare Bühne (0-90cm)
einen Rückraum mit eigenem Backstage- und Servicebereich
der benötigten Licht- Audio- und Mikrofontechnik
Leinwand (8×6) und Beamer (4k Auflösung)
Sound System von Alcons Audio
9x Sentinel 10 Amps
10x RR12
9x VR12
6x GT90
2x BF151
4x BC543
8x costumized Kickfiller
Aus diesen Komponenten ergeben sich ein ergänzender Centerclaster für den Live-Betrieb und ein zusätzliches Dolby-Surround System. Umgesetzt wurde das Konzept von Pro Performance mit Alcons Audio für die Tonanlage, Lambda Labs FRPR-Bassabsorbern für die Kontrolle der tieffrequenten Schallanteile und maßgeschneiderten Absorbern im Bühnenbereich. Abgerundet wird das Akustikpaket durch eine Industrieabsorberdecke in ca. 8,5m Metern Höhe. Das Ergebnis ist ein Raum, der nicht nur akustische Studioqualität, sondern auch einen bemerkenswert linearen Verlauf der Nachhallzeit besitzt. Die Anlage spielt unter derartigen Voraussetzungen auf beinahe unerhört hohem Niveau und wird durch das Avantis von Allen & Heath ergänzt.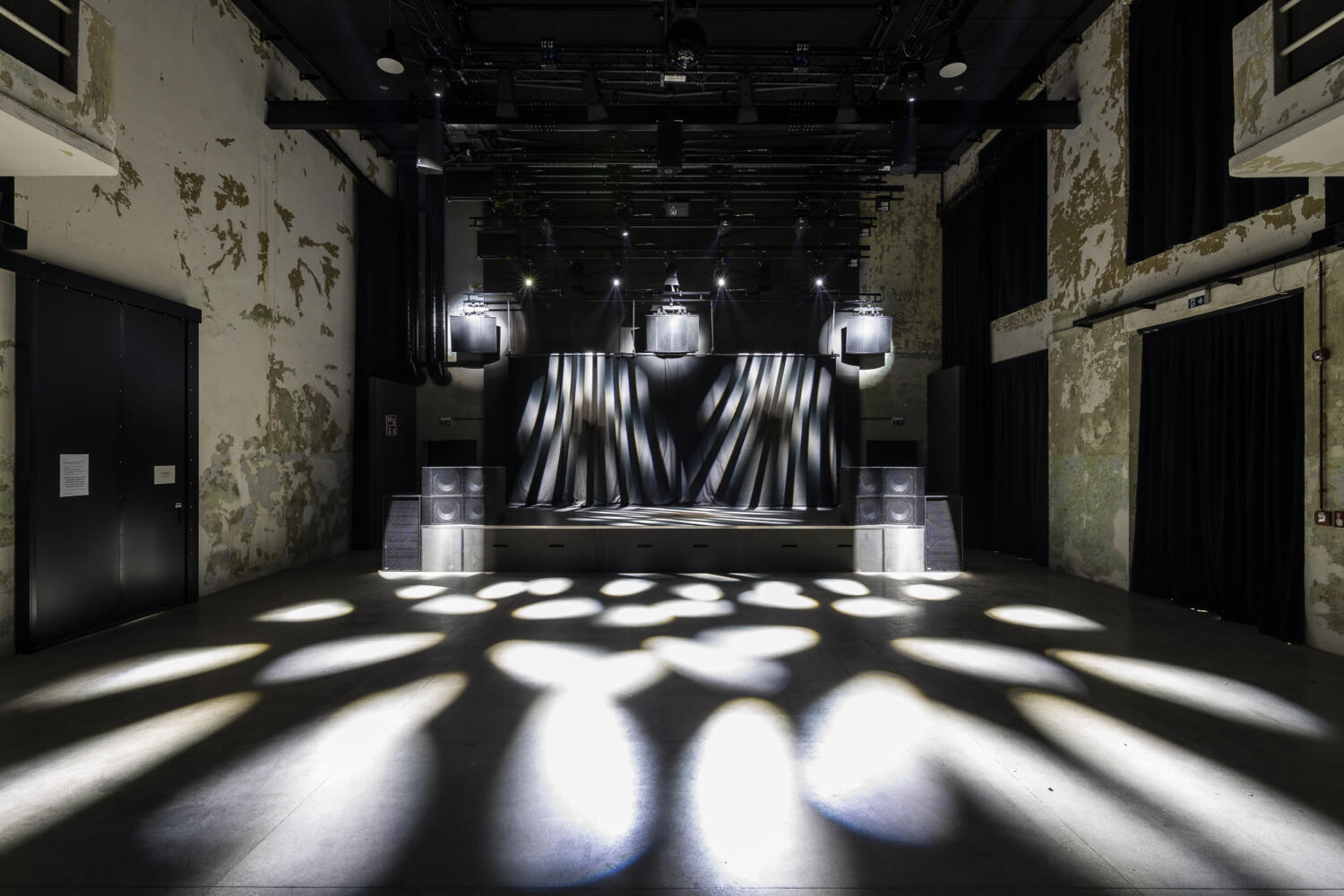 Licht
Mit insgesamt 2 Discokugeln, 8 Strobos, 18 Movingheads, 2 Laser, 3 vertikal Nebelmaschinen, 2 Hazer und 10 Theater Spots welche mit einem Chamsys Magic PC Wing kontrolliert werden gibt es unendlich viele Möglichkeiten zur Programmierung einer faszinierenden Lichtshow. Diese Komponenten können sei es auf 2 Ringtrassen und 8 Bühenenzüge beliebig verteilt werden.
Streaming und Recording
Es besteht die Möglichkeit die Events aus 3 verschiednen Kamerawinkeln einzufangen und nach Belieben online zu streamen. Dieses Setup ermöglicht es auch qualitative Aufnahmen von Bild und Ton simultan zu recorden. Möglich machen dies eine Sony Alpha 7c, 2 GoPros 7black und als Switcher der ATEM Tele-vi-sion Studio Pro HD oder der einfachere ATEM Mini Pro ISO.
Bei der Organisation eines Cateringservices, sowie technischen Bedarfsmitteln ist das Team um BASIS Vinschgau Venosta gerne behilflich.